In my teens I used to shampoo and condition my hair every day  and would blow dry and flat iron it most days, too.  This took a toll on my hair and made the ends very dry.  No bueno.  Into my twenties I've started a hair routine using WEN that works much better!  I always buy my WEN from QVC.com because I get the best deals from them.  Even though this is a pricier hair care brand, to me, it's worth it!  My hair stays healthier in between trims and does not develop as many split ends.  I tend to have an oily scalp, and while I wish I could go two or three days without washing my hair, I just can't.  I don't like the feeling (or look) of greasy roots so I wash every other day and that gives great results.  Here's the steps I follow, in case you're interested in giving any of it a try: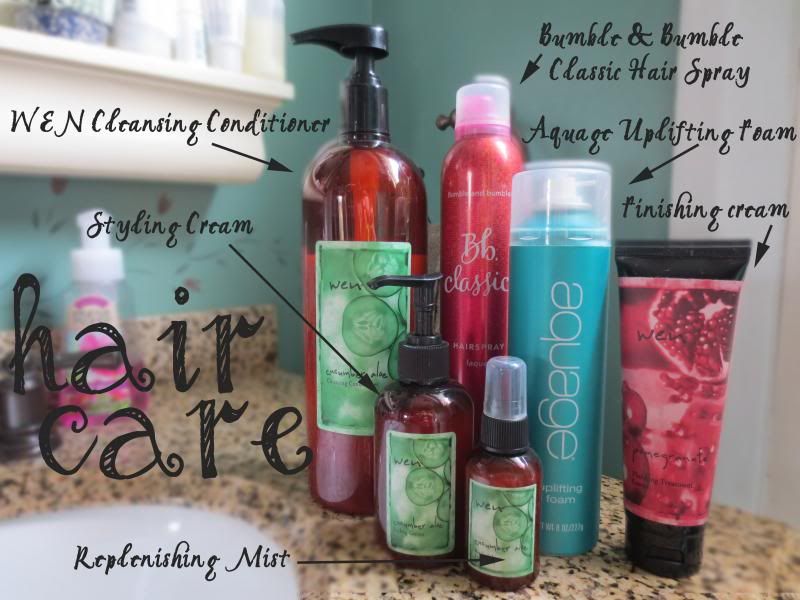 WEN Cleansing Conditioner– This is what I use to actually clean my hair instead of traditional shampoo.  First, I vigorously massage one pump (from the 32 oz. size) into my scalp and through the length of my hair.  I rinse that out completely and this acts as the "first cleanse" that removes any oils or product build up from my hair.  Next, I take two more pumps (one for the scalp and one for the length) and work it into my damp hair.  When I have the time I wrap my hair in a Turbie Twist towel and let it sit as long as possible.  I find that the longer WEN remains on my hair, the better the result.  Finally I rinse it out thoroughly with cool water.
Leave-In Cleansing Conditioner– After I've rinsed my hair I take a dime size amount and use it as a leave-in conditioner.  I focus this on my mid-shaft down, and work it into my ponytail with my fingers until it's smooth.
WEN Styling Cream– Following the leave-in, I work in one full pump (from the 4 oz. size) of styling cream.  This really helps protect from any heat I may use on my hair and keeps it less frizzy.
This concludes my main ritual that I do every single time I wash my hair.  The following products are used sometimes, depending on the style I'm going for.
Aquage Uplifting Foam– I like to apply a small dollop of this to damp hair before I am going to blow dry because it gives extra volume.  The key for me with this product is not using too much, because if I do I end up with sticky buildup and my day two hair is then a disaster.  When using the right amount, I get great results.
WEN Finishing Cream– Sometimes after I blow dry I will run a pea size amount of this product through my ends just to give a smoother appearance and keep any frizz away.
Bumble & Bumble Classic Hair Spray– I don't always use hairspray, but when I do I just love B&B hairsprays (any of them, really).  They smell wonderful (that awesome salon scent) and they keep my hair in place.
WEN Replenishing Mist– On day two hair, I like to mist my whole head with this product because it gives a refreshing scent and allows me to restyle with a blow dryer without creating more heat damage.  It also revives the products I used on my hair the previous day.
Anddd there you have it… my hair care ritual!  I hope you try some of these products and let me know what you think.